i wanted to do it yesterday, but i completly forgot it...
i just changed my layout... it's grey again, but this time i wanted to have some pink in it... *giggle*
it's made by
artphilia
over at
mintyapple
...
i already made some changes, but i'm still not completly done. here and there are some small things i want to change, but i have no time right now. so i will do it later... or not...???
well, as beautiful as the layout is... but i don't know how long i will use it... i really love it, but i already miss my old one... *cries-a-little-bit*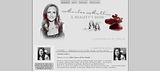 so tell me what you think about it 'cause i don't know if i should keep this *puppy-eyes*
lore_85
lore_85
lore_85
i'm off again... we're learning for our next economics exam...
number 3 for me and i just hate it, it's so damn boring and i have no idea what i am doing here at all *LMOA*
see ya
Lore
Current Mood:
working