as always:
~ please comment if you downloading, 'cause comments are
♥
♥
♥
~ please credit
lore_85
if you are going to use them
~
♥
ENJOY
♥
..:: 80 Beach Icon Bases ::..
just some new bases... so this time:
Welcome to the Beach
i have 80 Beach Icon Beases for you... if that gave you the impression that i need some vacation, you're completely right...!
i wanna be anywhere right now, just not here... the last time i was on vacation was 4 years ago... *cries* this is way too long ago. last year my BFF and i celebrated your 10th year anniversary and we planed a huge vacation together again... but we were completly broke... so we wanted to do it this year... and...? we have no time... my semester is over, but i'm still in college preparing several papers i have to hold and/or write... this will keep me busy for at least 2 more weeks... and my BFF will start her new job in the first week of august... so we have no change to spend some time together on vacation *much-more-cries*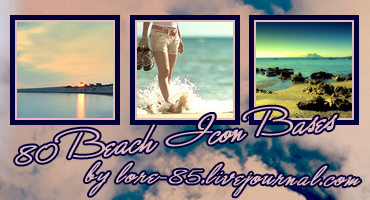 Download @
Mediafire
..:: 20 Colored Quarters Icon Textures ::..
Download @
Mediafire
Current Mood:
working