*NEW* Tutorial - Coloring
~ made in PS CS2
~ including Selective Color & Color Balance
~ Zip-File Download included [Preview, PSD & "Step-by-Step" Editor-File]
~ please comment, 'cause comments are ♥ ♥ ♥
~ please credit
lore_85
~ ♥ ENJOY ♥
i got asked several times about the coloring i use in my Profil Banner...
i made a huge back up today and i still have the PSD, gladly. this makes it a lot easier... so here it is.
i'm working on several requests right now. i still have 5 requests to fill. i try to get everything done during the rest of this week. keep your fingers crossed that i will find some inspiration...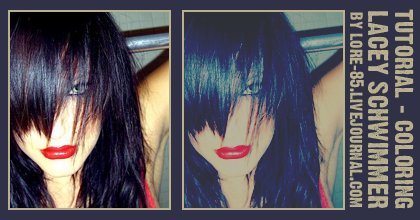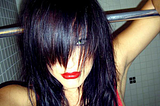 >>
01. Layers >> New Filled Layer >> Solid Color >> filled with #ba989c >> Screen >> Opacity 55%
02. Layers >> New Adjustment Layer >> Color Balance >> Color Burn >> Opacity 100%
Shadows >> Cyan -95; Magenta -15; Yellow +55
Midtones >> Cyan -20; Magenta +15; Yellow -20
Highlights >> Cyan -05; Magenta -10;
03. Layers >> New Filled Layer >> Solid Color >> filled with #b8b29e >> Multiply >> Opacity 55%
04. Layers >> New Filled Layer >> Solid Color >> filled with #b8b29e >> Normal >> Opacity 25%
05. Layers >> New Adjustment Layer >> Brightness/Contrast >> Normal >> Opacity 100%
Brightness -30
Contrast -20
06. Layers >> New Adjustment Layer >> Selective Color >> Normal >> Opacity 65%
Reds >> Cyan -100%; Magenta +20%; Yellow +30%
Yellow >> Cyan -15%; Yellow +15%;
Whites >> Cyan -05%; Magenta +20%; Yellow +15%
Neurals >> Cyan +20%; Magenta +10%; Yellow +15%; Black -25%
Download Zip-File
[including Preview, PSD & "Step-by-Step" Editor-File]
Current Mood:
full